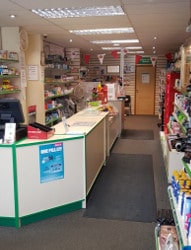 As your local community Pharmacy, Holmfield Chemist of High street, Codnor, Derbyshire can offer a wide range of services and facilities for you and your family.
We provide a whole range of over-the-counter medicines and carry a wide range of vitamins and supplements. Our pharmacist is available for help and advice without an appointment. A private consultation room is available for your convenience.
Please come and visit us, if only to browse through our wide range of cosmetics and toiletries.
Holmfield Chemist can also help with all your stationery needs.